So you're thinking about visiting Malaysia? Looking for that perfect Malaysia itinerary? Check out my 2 week Malaysia itinerary below.
After spending over a month travelling around Malaysia, I've narrowed this down to the best places to visit in Malaysia for two weeks.
This itinerary works its way from north to south of peninsular Malaysia. If you would like to go from south to north (starting in Kuala Lumpur) – please follow in reverse.
Jump to:
2 Week Itinerary | 3 Week Itinerary | 4 Week Itinerary
Please note: this itinerary is only for peninsular Malaysia and does not include Borneo…
This site contains affiliate links. We may receive a commission for purchases made through these links, at no extra cost to you.
Your 2 week Malaysia itinerary
Day 1-4: Langkawi
Start off your 2 week Malaysia itinerary by visiting Langkawi – a beautiful set of islands off the north-eastern coast of Malaysia. It's also duty free…. Meaning cheap (ish) booze is available across the island!
The island offers many activities from snorkelling, mangroves and hiking.
More than enough for 3 full days!
Day 1: Arrive into Langkawi by plane in the morning, and book a transfer to your hotel. Spend the rest of the day enjoying Cenang beach, take in the environment and go jet skiing or parasailing. Make sure you get a company where the parasailing starts from the boat. It's illegal for it to start on the beach – as it can be very dangerous. However, many companies still do this. In the evening, head to one of the many night markets.
Day 2: Enjoy a 6-hour mangrove tour. You'll see all kinds of wildlife and some beautiful beaches. Spend the evening having a drink on Cenang beach under the stars, or enjoying some great Langkawi food.
Day 3: Hire a car or moped to explore the island. Don't forget to take the cable car up to Langkawi's Mount Machinchang. Afterwards, get an early night as you'll have a morning ferry to penang!
You may notice, I don't include the popular 'island hopping' tour here. It was very touristy and I don't recommend it.
If you have enough money the jet ski island hopping tour was meant to be amazing! You could add this to your first or last day on the island.
Day 4: Take a morning ferry from Langkawi to Penang.
Where to stay
I recommend staying on Cenang beach. It's the main hub – while touristy, it has everything you need.
| Accommodation | Price-range | Why stay here? |
| --- | --- | --- |
| Langkawi Dormitorio | Budget | Lovely clean hostel. Located right on Cenang beach. |
| Casa Idaman Motel | Mid-range | Clean private rooms. Terrace on site and located next to Cenang beach |
| Casa del Mar | Luxury | Luxury hotel with beautiful pool on-site. Breakfast included |
Day 4-6: Penang
Penang is a great island and home to the popular Georgetown. It's famed for street art, but don't forget the beaches and rainforest! It's a perfect stop on your 2 week Malaysia itinerary.
Day 4: Take a morning ferry from Langkawi to Penang, in just three hours. I recommend booking quite far in advance here we couldn't get our chosen time when we booked just a day in advance.
When you arrive, leave your baggage or check into your hostel. Hit the streets to explore Penang's street art. Check out a self guided street art tour here!
In the evening, head to Kimberly street market. It is not extensive, but a good option for a cheap scrummy meal! Love Lane is where its at for drinks afterwards – although pricey by Asia's standards, its reasonable by Malay standards.
Day 5: Spend the morning exploring Little India. Don't forget to try the roti canai and the samosas! Then either take a street food tour, visit Batu Ferringhi beach or find some of the amazing snack options yourself. Its' a peaceful beach with a night market and a stunning sunset.
Day 6: Start early today for a visit to Penang hill and Kek Lok Si Temple, for beautiful views over the city. Afterwards grab lunch in the nearby hawker stalls. Return to the city to see the Clan jetties. Take a late afternoon bus to the Cameron Highlands.
Where to stay
I highly recommend staying in Gerogetown. The hostel we stayed in – The Frame – was perfectly located.
| Accommodation | Price-range | Why stay here? |
| --- | --- | --- |
| The Frame | Budget | Great guesthouse, minor furniture but clean. Good shared kitchen. |
| Wow Hotel | Mid-range | Clean budget private rooms. Located in the centre of Georgetown. |
| Eastern & Oriental Hotel | Luxury | Beautiful ocean views, 24 hour butler service offered, and on-site restaurant. |
Day 6-9: Cameron Highlands
This was one of my favourite places to visit in Malaysia. It may be because it was the first time I was in sub 25 °C heat for the past 6 months… but it was most likely the stunning views!
Day 6: After arriving late by bus from Cameron Highlands, get a good nights sleep in your new accommodation.
Day 7: Book a day tour for today. The Boh tea plantations is the best part of the tour. The other options you'll see will likely include the butterfly, bee and insect farms – were for me too touristy! However, this tour will take you around the main sights in the Cameron highlands.
Day 8: Today take a day hike. There are many trails to choose from but I recommend taking trail ten followed by six. Avoid trail nine at all costs – supposedly there's a man in a balaclava that may mug you – as told to us by the lonely planet guidebook and multiple travellers. It should take you around 4 – 5 hours. Download Maps.Me to find your routes.
Day 9: Take a day transfer to Kapas Island or Perhentian Islands. See further details about which island to choose below.
Where to stay
| Accommodation | Price-range | Why stay here? |
| --- | --- | --- |
| De'Native Guesthouse | Budget | The best hostel in Malaysia! 6 friendly dogs, a bonfire every night, complete with pool table and darts board. Be aware it is a 15 minute walk from town |
| Hotel D'La Ferns | Mid-range | Clean budget rooms in the centre of the Cameron Highlands. |
| Cameron Highlands Resort | Luxury | Golf course and spa centre on site. Beautiful old style rooms and buildings |
Day 9-12: Kapas Island or Perhentian Islands
There are two options for your beach time. I highly recommend Kapas Island over Perhentian – it's less popular and has more of a hidden desert island feel. However, Perhentian is more popular and has a higher standard of accommodation. Many people feel they shouldn't miss the Perhentian islands, but if you do it will 100% be worth it.
Kapas Island
Hands down… THE best place in Malaysia for a 2 week itinerary!
This island is well off the beaten track, and is a more beautiful and unspoilt island than the Perhentian.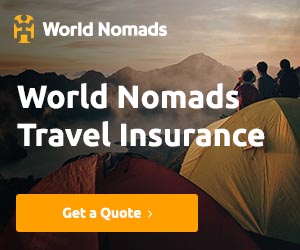 To arrive from Cameron highlands, take the bus to Marang jetty, from here Kapas is just a 15-minute boat ride from the mainland. If you cannot get a bus to marang jetty you can take one to Kuala Terrenganu, and from here a taxi to Marang jetty.
The island offers diving, snorkelling and hiking. We did spent most of our time here relaxing on the beach. However, it's very cheap to do your PADI open water with Aquasport Divers. There is also a great trail through the jungle to the other side of the island.
I can't sum up this island well enough – I promise if you choose this over Perhentian, you won't regret it!
Where to stay
| Accommodation | Price-range | Why stay here? |
| --- | --- | --- |
| Captain's Longhouse | Budget | Great little campsite, lovely bonfire at night and cheap bar on-site. |
| Qimi Chalet | Mid-range | Private beach on-site, rooms built into the trees. Lovely bbq candlelit dinner on the beach each night. |
| Gem Island Resort and Spa | Luxury | Set on it's own island next-door to Kapas Island. Over-water villas available. |
Perhentian Islands
If you decide to choose Perhentian, there is still a lot to do on the islands. They are very popular with travellers doing their PADI open water. There are hundreds of dive centres around.
The big island (Perhentian Besar) is full of resorts and the small island (Perhentian Kesil) with backpackers.
We stayed on Coral beach on the small island. However, it was overcrowded and only had dead coral. If you're looking for the backpacker vibe, stay on long beach.
Overall, the small island was slightly disappointing. After seeing the big island from a boat, my boyfriend and I did mull over if we'd made a mistake!
If you're a solo traveller stick with the small island. If you're travelling with friends or as a couple, I recommend the big island.
These islands are hyped up in Malaysia. However, if you only have time for a 2 week Malaysia itinerary, I highly recommend Kapas island over Perhentian for a true slice of paradise.
If you're not doing a PADI open water course, take the long snorkelling tour around the islands. We saw a shark and a turtle!
You'll find many tours suggest Rawa island – we arrived and saw mainly dead coral. Sadly, this is becoming more and more common in Asia.
Where to stay:
| Accommodation | Price-range | Why stay here? |
| --- | --- | --- |
| Long Beach Camp | Budget | Cheap camping option – tents and futons provided. If you don't mind sand – a great option. |
| Samudra Beach Chalet | Mid-range | Cheap beach chalets with possible sea views. Air conditioned but slightly old inside. |
| Perhentian Island Resort | Luxury | Luxourious beach chalets with outdoor pool. Possibility for bathtub in room. |
Day 12 – 14: Kuala Lumpur
Kuala Lumpur is, I suppose, very similar to many other cities across Asia.
However… one thing it isn't… and that is CHEAP!
We had planned to buy all our presents here for our return home… and after that experience I have to suggest not doing this!
Day 12: Arrive from from Kuala Terrenganu in just one hour by air from Kapas. If you are travelling from Perhentian Island, you can fly from Kota Bahru. This saves you time in a 2 week Malaysia itinerary. Alternatively you can take the bus: 9 hours from Kapas and 12 from Perhentian. When we booked this travel, the flight was actually cheaper than the bus.
Once you arrive, have a wander around Kuala Lumpur city centre, visit the Petronas towers and enjoy the city.
Day 13: Spend the morning at Batu Caves. Famous for the multi-coloured stairs… it's a nice place to visit. The earlier you go, the emptier it will be. The cave itself is a little disappointing. Then spend the afternoons shopping on KLCC.
In my opinion, 2 days is enough to see Kuala Lumpur.
One of the really great things about Kuala Lumpur is the rooftop swimming pools…. Ours definitely made our trip to Kuala Lumpur. I highly recommend a hotel or hostel with one – all accommodation options suggested above have one!
Day 14: Onward travel.
Where to stay:
| Accommodation | Price-range | Why stay here? |
| --- | --- | --- |
| KL Skyline & Rooftop Infinity Pool | Budget | Great hostel includes a pool with a view over KL. |
| Expressionz Suites | Mid-range | Great apartments on offer with rooftop infinity pool. Slightly further out of the city. |
| Platinum Suites | Luxury | Perfect one or two bed apartments complete with rooftop infinity pool only a stone's throw from the Petronas towers. |
3 week Malaysia itinerary
To bump the above 2 week Malaysia itinerary to a 3 week Malaysia itinerary, follow the below options.
Day 6-7: Ipoh
Ipoh doesn't make a lot of tourists Malaysia itinerary… but it's a less touristy version of Penang, and the perfect stop off point on your way to the highlands.
Day 6: Once you arrive from Penang by bus, get an early night sleep for a busy day sightseeing
Day 7: Start your morning with dim sum at Ming Court Hong Kong, and then head out on the mural art trail. The pieces here are very similar to Penang but less touristy!
Depending how early you started, spend the afternoon at the Lost Kingdom water park. Or choose another night market, Gerbang Malam, instead.
Take a late afternoon bus to Cameron Highlands.
Note: If you have the option to extend your visit here I'd highly recommend it as there's multiple neighbouring temples that are worth a visit!
Where to stay
Day 10-12: Taman Negara
Taman Negara is the main entry point to the rainforest. Now I visited this place with high hopes and we spent 3 nights there. It was just too long. The scenery is beautiful yet samey. The town is full of grumpy locals serving bad food at an expensive price!
Two nights in this place is long enough….
Day 10: Evening of arrival: be sure to take a night walk or night cruise – if they have space!
Day 11: Walk up to Bukit Teresek unguided in the morning. Currently the canopy walk is closed – hopefully when you visit it may be open again – so be sure to check this out! In the afternoon, visit Orangli village and enjoy rapid shooting on the way back.
Please note: you must book your tours in advance here! We sadly could only book one tour as everything else was booked when we visited. This was despite the hostel telling us before we did not need to book in advance.
Day 12: Take a whole day transfer to Perhentian Islands. Book when you have arrived, and includes a minibus transfer to the jetty and return boat tickets.
Where to stay
I recommend staying in Mutiara resort and booking their all included package…. If you have the money to!
| Accommodation | Price-range | Why stay here? |
| --- | --- | --- |
| Wild Lodge | Budget | The only reasonable and clean hostel, no air conditioning and book tours through another company. |
| Mutiara Resort | Mid-range | Best place to stay as you can book all inclusive tours and food packages. Only hotel within the national park. |
4 week Malaysia itinerary
To bump the above 3 week Malaysia itinerary to four, I recommend adding Melaka and Tioman Island onto your trip.
Day 21- 23 – Melaka
Day 21: Take a 2 hour bus to Melaka from Kuala Lumpur. Check into your hotel and relax! Spend the evening enjoying foor from Little India or Jonker Street Harket Centre.
Day 22: Take a free walking tour in the morning to explore Melaka and find out more about it's history. Then spend the rest of the day exploring central Melaka. Finished off by visiting the floating Melaka Straits Mosque.
Where to stay
| Accommodation | Price-range | Why stay here? |
| --- | --- | --- |
| Ola Lavenderia Cafe | Budget | Great little guesthouse, private and dorms available. Bicycles available for hire. |
| Muk by Victoria Home | Mid-range | Modern clean hotel with excellent ratings. |
| Ames Hotel | Luxury | Up-market hotel with on-site restaurant and swimming pool. |
Day 23 – 27 Tioman Island
I heard only good things about this beautiful island – and so highly recommend a visit.
Day 23: Take a full day transfer from Melaka to Mersing Jetty. Followed by the ferry over to Tioman Island
Day 24: Spend your first day exploring the beaches and getting some tan-time in. You can also rent snorkels to explore the underwater life.
Day 25: Book the island hopping tour – either snorkelling or diving. Explore all this island has to offer.
Day 26: Today is your hiking day. You can hike through the jungle from Tekek to Juara.
Day 27: Take a full day transfer to arrive back to Kuala Lumpur in the evening – ready for your flight the next day. Alternatively you can also transfer down to Singapore and fly from here.
Where to stay
| Accommodation | Price-range | Why stay here? |
| --- | --- | --- |
| Beach Shack Chalet | Budget | Cheap, private, basic chalets. Private bathrooms. Good option for solo travellers. |
| Bushman Tioman | Mid-range | Budget chalets with sea views. On-site restaurant and located on the beach. |
| Tunamaya Beach & Spa Resort | Luxury | Upmarket beautiful beachfront villas. On-site spa and snorkelling activities. |
Extend your visit:
If you want to spend longer than two weeks in Malaysia, I recommend heading over to Borneo. Here you will find mountains, rainforest and the orangutans in Kota Kinabalu!
How to get to Malaysia
By air: Malaysia has many airports littered throughout the country. Most international flights will arrive in Kuala Lumpur. Should you wish to start your itinerary in Langkawi – it's just an hour and 30-minute flight north.
By boat: It's possible to arrive in Langkawi from South Thailand. The ferry network is extensive throughout Malaysia.
By bus: You can take a bus into Malaysia from Thailand.
How to get around Malaysia
By taxi/Grab: Grab is a great way of taking a taxi as the price is agreed on the app beforehand. This means you have no danger of being ripped off. It's also very convenient.
By bus: This is the most common form of transport in Malaysia. I recommend booking through 12Go.
By ferry: There is an extensive ferry network between Malaysia's islands and the main country.
By air: Malaysia has very cheap internal flights. I recommend Air Asia for these. They are often cheaper than the bus so always worth checking!
By car: It's very easy to hire a car in Malaysia. You can also hire mopeds very cheaply if you're happy travelling like this.
When to visit
You can visit for your 2 week Malaysia itinerary all year around.
The rainy season on the west side occurs between April and October. The rainy season on the east side: between November and March. During these times, islands on some sides will close down. Be prepared for this!
Money-saving tips for Malaysia
Local buses – between some of the more local attractions, you can try to get the bus that the locals take by asking around. This will save you $$$.
Internal flights – we took a flight for £10 where the 8 hour bus cost £15. Always check the flights! Sometimes they are cheaper.
Avoiding tours – many of the tours in Malaysia seem like a necessity but just aren't! For example, many of the snorkelling tours on the islands, can be replaced with snorkelling on a beach you can reach by public transport or walking.
Read here for budget travel tips and how much money you need to travel.
Staying safe in Malaysia
Like any country – it's important to follow general safety tips when travelling. Check out my top tips for travelling Malaysia safely:
Wear your passport on a hidden belt when taking overnight buses/flights.
If you enter any busy market places – wear your backpack on your front.
Keep a bank card in each individual bag you have plus one in your purse that you use. This just means if one of your bag goes missing you will still have access to a bank account.
Make sure you don't forget anything with this travel checklist.
Get Insured
It's essential you get travel insurance when visiting, not just Malaysia – but everywhere!
I recommend True Traveller if you have pre-existing conditions, including mental health conditions.
If you don't have any pre-existing conditions – check out World Nomads.
Get connected
Getting a sim in the country you visited is a great way to not be dependent on Wifi. Sims cost as little as 10$/£8 for a month with unlimited data. Read more about your best options for a Malaysian SIM card.
Alternatively, you can buy a sim online before you go. I don't recommend this as it is considerably more expensive, and you can just get one at the airport when you land.
---
I hope you enjoyed my 2 week Malaysia itinerary. Have the best trip!